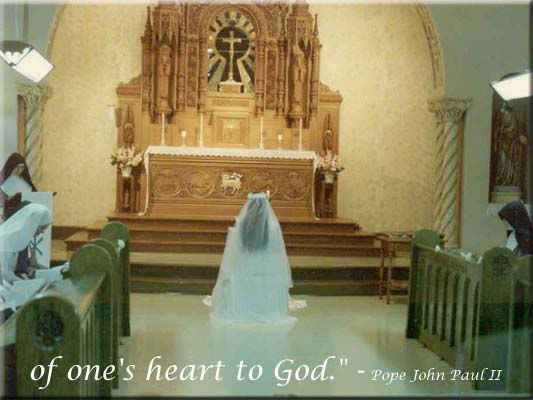 (A nun on her wedding day :)

The full quote from the Pope is: "It is time to propose the religious life once again as a serious plan of life to show the nobility of the total gift of one's heart to God."
Some people were wondering (ahem :) so here is a sample schedule from
the Poor Clares of Rockford, Illionis.
As you can see, they go to bed at 9, wake up at 12:30, go back to bed at 1:45, and rise again at 5. Most Carmelites don't do that, I don't think, but still it is verrrrry POD!! I wonder if I would be up to that ... maybe ... lol, it's always "maybe!"
You can see that they call Lunch "Dinner" and Supper, "Collation."

12:30 am Rise
12:45 am Matins (Office of Readings)
1:45 am Retire
5:00 am Rise

Dusting charge

5:30 am Lauds (Morning Prayer)
6:00 am Meditation
7:00 am Rosary
7:30 am Holy Sacrifice of the Mass

Thanksgiving

Breakfast

Work period

9:30 am The Abbess' blessing
Terce (Midmorning Prayer)

Work period

11:45 am Sext (Midday Prayer)
12:00 pm Angelus & Examen

Dinner

1:00 pm General Work
1:30 pm Quiet Time
2:00 pm None (Midafternoon Prayer)

Work period

4:30 pm Vespers (Evening Prayer)
Scripture Reading
5:30 pm Angelus

Collation (Supper)

6:30 pm Recreation
7:30 pm Compline (Night Prayer)

Free Time

9:00 pm Retire