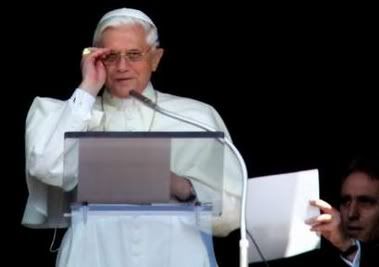 Pope Urges Motorists to Be Careful

... Benedict made the appeal in his noontime blessing to thousands of tourists and faithful gathered under a scorching sun in St. Peter's Square ...

Benedict wished everyone a good "well-earned" rest, but he said he also wanted to make an appeal for "prudence" for those who will be traveling.

"Unfortunately, every day and in particular on weekends, there are accidents with so many human lives tragically cut short, with half of the victims among the young," he said. "In past years, much has been done to prevent such tragic events, but more can and must be done with more effort by everyone.

"We must fight absent-mindedness and superficiality, which in an instant can ruin one's future and the future of others," he said. "Life is precious and unique: It must always be respected and protected, including with correct and prudent behavior on the roads."
Link.
LOL, I know, Papa! It's funny how much he sounds like my real father. Whenever I drive to the city my dad says, "Be careful, pleeeeaase, Maggie!" I guess I can always try harder to be a safer driver. I drove all around this weekend - and I even drove with one of my friends in the car, and there were no accidents! (Ahem ... near misses, yes ... no actual smash-ups ... ;)