Today was very lovely. We went to the 8 am Mass at St. Mary's, and it was quite all right. I think my theory about liturgical disaster artists liking late mornings may be true! A visiting priest was the celebrant. However, before and after Mass we saw Fr. Ference, who was wearing a genuine article cassock! Before Mass he was visiting the tabernacle and then showing around one of the altar boys, who was serving his first Mass; after Mass, he came out to greet people, and we said Good Morning! very fast before we rushed off to Shannon's house.
Anyway, I was pleased as pleased could be. A full length cassock! Like what these fellows in black are wearing: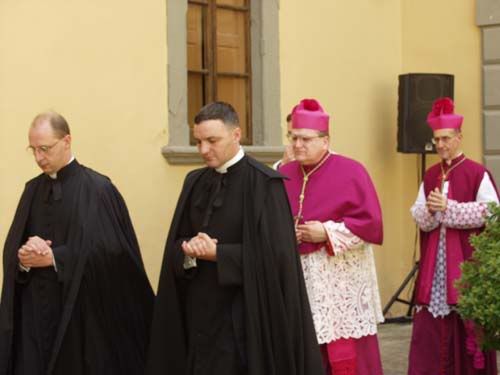 Except Fr. Ference wasn't wearing the cloak. Oh well. One thing at a time ...
The visiting priest had a rather lengthy homily, however, so we were about five minutes late picking up Shannon and her sweet little sister. They were both dressed so lovely! Let's count the reasons to be jealous of Shannon. Tall, blonde, pretty, admitted to Hillsdale, good fashion sense, cute little siblings ... grrr! ;)
The pastor had a wonderful, very humorous sermon, as usual! I was glad that Betsy got to finally hear a famous Doc sermon. The readings were the same as the ones we heard at Mass earlier in the morning, but let me tell you, when you have a thick head like I do, it certainly doesn't hurt to have it repeated a couple times! Actually, I usually need to hear things three times before they stick. My brain neurons are slippery, you see ... ;)