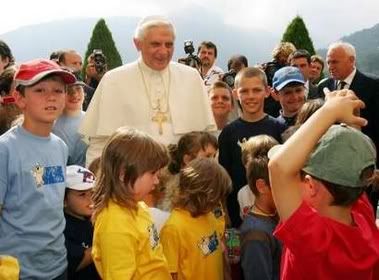 (Benedict and a group of children in Northern Italy)
Papa has been on vacation, but he has not been cooling his heels!
Benedict XVI admits it's not easy being pope
... Asked whether being the spiritual leader of the world's one billion Catholics was a difficult task, he said: "In a way yes. I had never thought about this ministry, but the people are very good to me and support me."

Joseph Ratzinger appeared suntanned and in good spirits as he exchanged a few words with journalists before meeting local Church officials from Valle d'Aosta, the region where he has been on holiday since July 11 ...
Benedict's 100 days: New style, old ideas

Elected the 265th leader of the Church on April 19, German-born Joseph Ratzinger has chosen for his first holiday the same chalet in a resort in the Italian Alps that was long favoured by his predecessor.

But unlike John Paul, an enthusiastic hiker, 78-year-old Benedict has been spending much of his time indoors, studying and playing Beethoven on his beloved piano.

Papal watchers believe he may working on a batch of new appointments -- he has so far confirmed all of the Vatican's top officials -- as well as his first encyclical, which will be regarded as a sort of "political manifesto" guiding his papacy.

According to John Allen, a Rome-based correspondent for the National Catholic Reporter, Benedict will probably want to lay out the philosophical and theological basis for his battle against what he has called the "dictatorship of relativism"...
Pope prays for God to stop 'murderous hand' of terrorists
Pope Benedict prayed Sunday for God to stop the "murderous hand" of terrorists, stepping up his condemnation of the recent attacks in Europe and the Middle East blamed on Islamic extremists.

At the same time, Benedict's spokesman said the Pope was placing immense importance on a scheduled meeting in Cologne, Germany, next month with members of Germany's Muslim community.