... and a new encylical.
Papa's been very busy lately!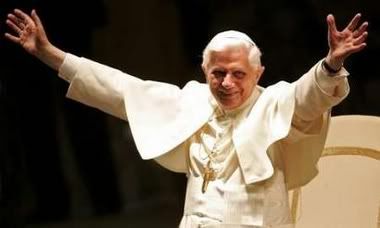 New saints
canonized on Sunday:
Polish Archbishop Jozef Bilczewski
(1860-1923)
Diocesan priest Zygmunt Gorazdowski
(1845-1920)
Italian priest Gaetano Catanoso
(1879-1963)
Capuchin monk Felix of Nicosa
(1715-1787)
Chilean Jesuit Alberto Hurtado Cruchaga
(1901-1952)
Encyclical news
VATICAN CITY (Reuters) - Pope Benedict has written his first encyclical, the highest form of papal writing addressed to all members of the Roman Catholic Church, a Vatican source said on Monday.
The source said the encyclical, which is expected to be published before the end of the year, deals with one's personal relationship with God.

The work is just under 50 pages long and will probably be published to coincide with the feast of the Immaculate Conception on Dec. 8, the source said.
Looking forward to it!